Richard Moore is the Young Horticulturalist of the Year 2019
12 MAY 2019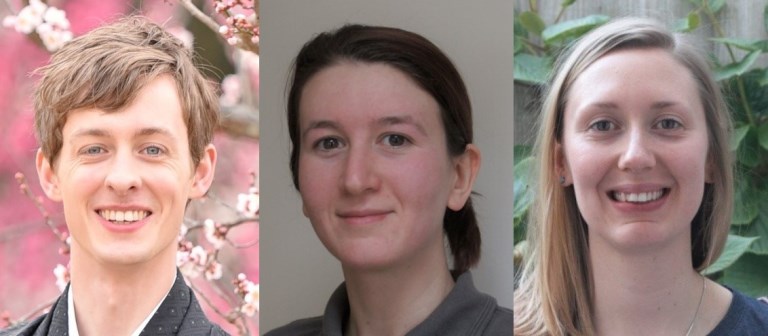 It began in January with thousands of entrants from across the UK and Ireland each competing for the title Young Horticulturalist of the Year and the £2500 Percy Thrower Travel bursary. After heats and regional finals, the final eight met at Kew to decide the overall winner. Several nail biting and close rounds ensured and by the end Richard Moore (image left) & Emily Marston (image middle) were tied for first place. Following two tie breakers the same result! Only after the third tie breaker did Richard win. In addition to the travel bursary,
Normally 2nd place wins a prize of £950 but this year Andrew Cross, Chairman of the Shropshire Horticultural Society, the competition's main sponsor announced that they would also give Emily, a Horticultural Apprentice at RHS Harlow Carr, a £2000 travel bursary! Life changing horticultural travel for both Richard and Emily.
3rd place goes to Sally Newbrook (image right), a Horticulturalist from RHS Garden Rosemoor, who wins £550.
The rest of the finalists each win £200:
Ben Clansey – Horticulturalist at Royal Oak Landscape Design
Owen Harlow – Horticulturalist at The National Trust for Scotland
Mark Matthews – Professional Gardeners Guild trainee at The National Botanic Garden of Wales
Frances Porter – Professional Gardens Guild trainee at Waddesdon Manor
Leo Walsh – Horticulturalist at Universal Floral
Each of the finalists is also awarded membership to the Chartered Institute of Horticulture and PlantNetwork.
Find out more about the competition and how to enter for 2020
We are indebted to all our sponsors; our major sponsors are the Shropshire Horticultural Society who provide the Percy Thrower Travel Bursary and Bord Bia who sponsor all Ireland's heats and regional finals. We also generous regional sponsors supporting our heats and regional finals. They includeBulldog Tools, Caulders Garden Centres, Cherry Lane Garden Centres, Harrogate Flower Shows, PlantNetwork and Stockbridge Technology Centre.